Home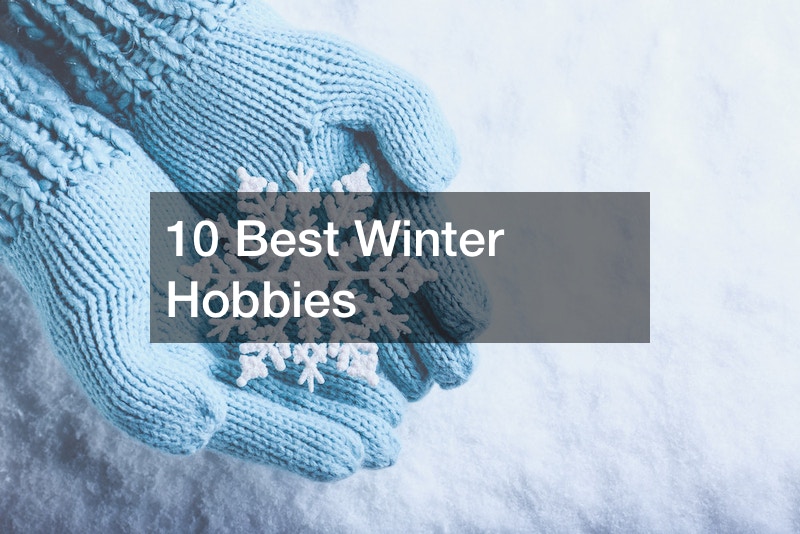 10 Best Winter Hobbies

When the world outside grows white and gloomy with snow, one thing that's for sure is that inside hobbies are all that you can rely on to make the most of your free time. Things like gardening and taking slow strolls around the neighborhood are no longer viable activities for obvious reasons. If you're feeling listless and unsure about what to do because most of your hobbies fall in the category of outside hobbies, read on. Outlined is a handy list of 10 inside hobbies that you can turn to and make the most of winter, keeping active and giving your brain fun activities to work on.
1. Soap Making
One of the inside hobbies that you may want to try your hand at is sap making. This is an amazing hobby because it's safe and easy enough to do right at home, and you're also going to get a useful product out of it. You can check online to see if you can find the best soap making equipment online, which should not even cost you too much money to invest in. With the help of some tutorials online, you should get a good idea of the best equipment to get, and even the basics of how to start with soap making if you're completely unfamiliar with it.
You'll find that it's so easy to get started that you can begin to experiment with fun colors, textures, shapes, and scents. This can give you an amazing time, and you'll be able to come up with amazing soaps in the process. With time, you may be able to stop relying on store-bought soaps and start using your own creations at home. In fact, you can sell these soaps to others and turn a profit, making this a hobby that will last through winter and soon become a business that you do from the comfort of your home.
2. Jewelry Making
Another great item to add to your list of inside hobbies is jewelry making. This is an amazing hobby because there are many kinds of jewelry that you can make. The one that you choose depends on your skill level and your comfort with learning a new skill or two. For this, you can use a range of different materials to come up with various jewelry. You can find a number of supplies at your local crafting store, as well as some instructional items and guides for making jewelry.
You can start at a basic beginner's level and build up to a more complex skill set. Eventually, you may even be able to make engagement rings and other complex pieces that you can sell and make a profit. To make sure that this is a fun hobby for you, take the specific path that you're most attracted to rather than one that a majority of other people seem to like. This way, you'll get a lot of satisfaction and can also get the motivation that you need to hone your skills and become an amazing jewelry maker.
3. DIY Work
This list of inside hobbies would not be complete without home remodeling as a part of it. That's because there may be a number of things that you've kept pending in terms of repairs and renovations around the house. These are small projects that could improve your home, making it more comfortable and functional. With the right DIY work, you can also make your home more appealing and therefore ensure that you love being in the space. Throughout the house, there are bound to be various elements that you can remodel with a few handy tools.
Remember not to bite off more than you can chew with this project. This is in terms of project complexity and sensitivity. On this note, you're better off working on projects that don't need specialized tools and more to get done successfully. Also leave out projects that pose a significant risk to your safety, such as electrical projects. With commitment and dedication, you can make your home's interior more livable and beautiful.
4. Bonsai Tree Care
If you enjoy gardening and other hobbies to do with greenery, the good news is that there are some inside hobbies that can help you enjoy something along the lines of what you like. One of these is caring for a bonsai tree. These are miniature trees that can be kept indoors but that grow and have all the needs of regular trees. This means that you'll get to do tree trimming and similar tasks to your little bonsai indoors in winter.
There are a variety of trees that you can choose for this hobby, and there will be a lot of helpful information for you along the same lines on the internet. To take proper care of a bonsai tree, you'll need to keep a few things right, including humidity, watering, lighting, pruning, and even fertilizing. With these details in the right state, you can expect to have a thriving bonsai tree or more, and this can make it easier for you to realize the satisfaction of keeping a bonsai tree.
5. Reupholstering
Reupholstering old or dated furniture can be fun for you if you enjoy working on improvements. That's because you can give old furnishings a fresh new look in a short time, and all indoors. This could be a particularly functional hobby if you own a space like a restaurant, or you know someone who does and who would like to update their furniture. Restaurant upholstery is sure to take you a considerably longer time, and you may even be able to charge for your services. This is in the case you have some experience and so you're sure that you can do a job worth paying for.
As far as inside hobbies go, this one may be more involving and will need some space and specialized tools, depending on the type of furniture that you're reupholstering. You may also need ample room and a proper plan to make sure that you have a place to take the waste when you're done with the project. Since furniture is one of the most expensive items that most people will buy, following a house and a car, you stand to save a significant amount of money for yourself with this project.
6. Interior Design
Inside hobbies can also comprise interior design tasks, such as what a window treatment company can help you with. From shades and blinds to drapes and curtains, there are many things that you can look into in terms of interior design for your home. These are all things that can serve a functional role as they're going to help you keep your home temperate during extreme seasons if you can keep up with opening and closing them as necessary. You can also seal gaps and cracks along the doors and windows to make sure that your home's insulation is fully secured.
Other interior design tasks that you can work on are adding some decor to the various indoor spaces in your home. This may call for you to do a bit of tidying up so that you can secure the best final look. With a well-organized and appealing interior space, this season is going to be comfortable for you and your family. You can even get some indoor plants, taking care not to pick toxic ones that could pose a threat to children and pets. As a result, you'll have a beautifully curated fresh space.
7. Digital Art
If you enjoy making art and can find your way around the digital space, this is a potential item to add to your list of inside hobbies. You simply need a laptop, access to the internet, and a bit of creativity. With these, you can be sure that you'll soon come up with some impressive digital art pieces. These can be printed out on tote bags, clothing, and even items like stickers and more with the help of local printing services. You should take time to research the various options that you can use to create this art before you begin so that you choose the best platform and know which digital tools to use.
Digital art can actually be put to use in a number of ways. For instance, you don't have to make designs for printing. You can make designs that will be shared online and sent from one point to another in soft copy. This will be both efficient and amazing for the environment. As such, you can fulfill your creative ambitions without leaving the comfort and safety of your home this winter.
8. Hair and Beauty
Many people are currently interested in taking care of their hair, and you can turn this into one of your inside hobbies. To do this, you can either buy wig-making supplies from local wig shops or buy ready-made wigs and add a twist to them. Whichever option you choose, remember not to put too much money into this hobby at the beginning. Cheap wigs will help you hone your skills and learn a thing or two if you're a beginner in the world of wigs. This way, even if you mess up, you won't undergo a substantial monetary loss.
You can wear these wigs yourself, share them with family, or even sell them if you can find willing buyers. This is something that you can do online and that's easy enough to market on the internet. You can build a loyal following on social media to share the skills that you're learning or that you already have, and find a way to make a living in this way.
9. Skin Care
Another hobby to add to this list of inside hobbies is skin care. This is something that you're going to benefit from when you do it in this season since the cold can do a number on the skin. As such, research the best oils and creams that you can apply to your skin to keep it healthy and bright. You can even look into makeup that will be easy to wear and last long enough in this season.
From facials to scrubs and other routines, you can come up with a routine that can help you secure your skin's health. As with almost everything else, you can find a good number of ideas on the internet. Before you try anything that seems invasive, however, it's best that you talk to a good dermatologist. It also helps if you can find out the type of skin that you have as this is going to dictate the specific treatments that work out well for you.
10. Become a Connoisseur
Last but not least, you can become a connoisseur. This is someone who has expert knowledge of an art, drink, or food. Clearly, there are many avenues that you can pursue in terms of this, depending on what you are specifically interested in. As a connoisseur, you'll be in a position to judge and appreciate the quality of the specific item that you choose to specialize in. The main thing that makes this an inside hobby is that you can get access to food, drinks, and art in indoor spaces for the most part.
If there's a local cheese shop in your area, you can approach them if you have a passion for cheese and can easily tell apart the various types even in different settings and conditions. You can search online for the ways in which you can get started as a connoisseur and start to familiarize yourself with the details of what you'd like to focus on. You can also find a connoisseur in your industry and ask them to help you find your footing, and you may learn faster as an apprentice.
These are 10 of the inside hobbies that you can use to occupy yourself in winter. They're going to keep you active and productive, ensuring that you're not likely to come down with the winter blues. As a result, you'll be happy throughout this season and may even be able to monetize one of your favorite inside hobbies.