Home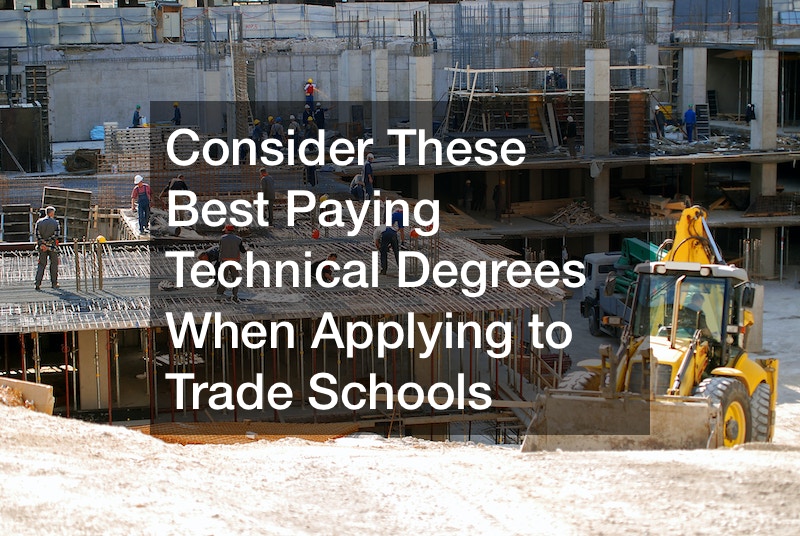 Consider These Best Paying Technical Degrees When Applying to Trade Schools

We live in a highly competitive economic climate. According to a Think Impact report, colleges are churning about 4 million new graduates annually into the job market. This means that relatively fewer job opportunities create stiff competition in the job market. As a result, many people are exploring technical options for good reasons. Trade school has become an increasing alternative for many high school graduates. It is affordable and offers a safe route to professional development and career entry, especially compared to a traditional four-year university course.
A trade school, a vocational or technical college, specializes in job training, helping students secure gainful employment in overly demanding fields. Moreover, the current employment landscape is gradually changing from prioritizing a 4-year degree to preferring necessary technical skills, unlike a few decades ago. Therefore, applying for a trade school is a prudent decision. Luckily, the market is awash with a wide array of best paying technical degree options.
This article discusses why you need to consider applying for a technical degree. Keep reading to know the requirements to apply for a trade school, plus several examples of best-paying technical degrees for your consideration.
But first things first.
Trade School Application Guide
The trade school application process is straightforward. Although the requirements may vary slightly by state or institution, they possess similar guidelines. Let's explore the following technical college requirements:-
Typically, if you are done with high school, you are considered eligible to apply for trade school. Although age requirements may vary by school, as a candidate, you should be atleast 17 years and above to apply for trade school.
If you are below 17 years old and interested in applying to a trade school, you'll need parental consent. Still, you can apply using a release letter from your high school. However, applying for the best-paying technical degrees, such as cosmetology or dental assistance, requires you to be 17 years and older.
Trade schools rarely consider essays essential during the application process. However, as an applicant, you'll need to meet some criteria, such as a GED certificate or a high school diploma.
Suppose you have not completed high school; you may wonder if you are eligible for an application. In this case, you may need to pass a standardized test to qualify for trade school.
Trade school application requirements, such as age limits, may vary by state. For example, New York technical schools can accept applications for candidates who are 16 years and a half. However, states such as Missouri only accept applicants who are atleast 17 years and a half.
A high school diploma or a GED certificate is what you'll require for a trade school application. In rare cases, some trade schools may require SAT/ACT scores or recommendation letters when applying for best-paying technical degrees.
Some schools require you to take a placement exam during the trade school application process, especially if you do not have a high school diploma certificate. However, some schools allow you to bypass the test with good SAT or ACT scores.
What To Consider When Choosing A Technical Degree
Probably, you've concluded that trade schools offer the best-paying technical degrees, and you've decided to apply for one. In this case, consider the following when choosing a technical degree.
Before choosing any technical degree, you'll need to ask yourself this question – what is your passion? As a leading tip, you'll need to identify a topic you enjoy discussing for hours. Suppose you are passionate about a topic such as building and construction. In this case, choosing a degree related to careers, such as a framing contractor or other best-paying technical degrees in line with the construction industry, makes perfect sense.
You took a couple of courses in high school. Some subjects were a breeze, while others needed a little effort to understand. In this case, you'll need to choose a degree whose related high school subject was an easy A. For example, selecting a degree such as geological and petroleum technician would make sense if you were good at geography.
Your preferred work environment and industry
Suppose you are confused about choosing a technical degree. In this case, identifying the type of company you'd want to work for is a great start. For example, if working with commercial concrete companies would excite you, then taking a degree such as construction management would be a step in the right direction.
Why Technical Degree Is Important Today
It's no doubt that trade schools offer some of the best-paying technical degrees. Besides this fact, the following are a few reasons why a technical degree is essential today:-
Get high demand in the job market
A technical degree will give you well-paying career options, while candidates without it get novice levels when applying for non-skilled opportunities; armed with a technical degree, you'll qualify for much higher, well-paying career positions.
Build up on vital management skills
If you desire to take up a leadership role in the future, a technical degree in your specialization will get you there. During the program, you'll pick up essential management skills in areas such as:-
Six sigma quality management
A technical degree proves your qualifications to perform specific tasks. It shows that a candidate has the capacity or a certain level of expertise in a particular field and does not require training or supervision. Also, it is evidence that you are a trained technician in your specialization. For instance, handling some projects in areas such as the construction industry requires you to have a technical degree and certification.
Best Paying Technical Degrees For Your Consideration When Applying To Trade Schools
With a wide array of best-paying technical degrees, you can quickly get confused. For this reason, we have expounded on a few to get you started.
1. Plumber & Pipe Fitter
If you fancy working with hot water heater repair companies, you'll want to pursue a plumber and pipe fitter technical degree. Mostly, the job requires you to fix new piping and repair leaks. Other responsibilities include:-
Troubleshooting the piping system
Pressure testing steam lines and gas
Knowledgeable with pipe sizes and types
Capacity to read pipe installation blueprints
According to the US Bureau of Statistics, a plumbing job will earn you about $59,880 annually, and you only need a high school diploma to apply for this degree.
2. Diesel Service Technician
If you are a diesel-powered engine enthusiast, consider taking a diesel service technician degree. Mainly, you'll be doing repairs such as car oil change. Below are more responsibilities within the scope of diesel service technicians.
Maintaining certification requirements
Inspection of operations systems
Conducting routine maintenance
Do test drives to ensure safety after repairs
How much can you expect to earn with this degree? According to Glassdoor, your salary will be in the range of $68,638 annually.
3. Construction Manager
Do you have a passion for building and construction? If you do, a construction management degree suits you. It is also one of the best-paying technical degrees today. Your daily activities will involve minimizing costs to ensure you complete the project on a budget. Other duties and responsibilities include:-
Supervise roofing companies and ensure they do a great job
Ensure compliance with building regulations
Ensure compliance with environmental regulations
Oversee the excavating contractor and ensure the excavation work is excellent as per set guidelines.
Ensure that the project meets the required deadlines
Ensure the steel building builders follow the regulations and guidelines for building solid and quality jobs.
According to Salary.com, you'll earn between $102,614 and $135, 587 annually as a construction manager. That averages to around $118,658 annually.
4. HVACR Technician
Did you know you can specialize in HVAC equipment? An HVACR technical degree is very marketable because houses need warmth in the winter and cooler temperatures during the summer. A faulty air conditioner is a recipe for disaster – potentially lethal. For this reason, households want to ensure the HVAC operates optimally, hence the massive demand for HVAC technicians. It makes sense to go for an HVACR degree in such a case. Here is the best part. When you settle for this marketable degree, you'll earn about $25.63 per hour. Your work will revolve around the following responsibilities:-
Installing new HVACR systems
Ensures HVACR systems are working efficiently and safely
Electrical wiring and plumbing where needed
5. Dental Hygienist
The demand for dental practitioners has always been constantly high. And the pay is good. If medical-related degrees are your thing, consider pursuing a dental hygienist. In this case, you'll be working in a dentist's office and responsible for the following:-
Patient Education
Patient screening
Patient treatment
Take patients impressions
Additionally, your stipend will be about $80,925 annually.
6. Logistics Manager
As a logistics manager, your primary focus will be your industry's supply chain. In other words, you monitor the purchase and sale of products. Also, you'll be responsible for inventory control and the warehouse. Other duties include:-
Create logistics operations policies
Manage logistics specialists
Managing your company's product cycle
Purchase production materials
Ensuring overhead crane inspection is done regularly to ensure a smooth flow of work
7. Home Inspector
As a home inspector, besides a home inspection degree, you'll need to be keen on details to do a good job. People are building homes daily, evidencing that a home inspector degree is highly marketable. If you opt for this degree, expect to earn around $53,225-$61,091 annually. Your work will revolve around the following:-
Thorough home and septic inspection
Documentation and submission of findings
Keep photographic findings of your inspection
Ensure buildings meet the recommended standards
8. Multimedia Artists /Animators
Do you fancy working in the arts industry? Animation suits you if you fancy working with computers. The industry is quite uncommon and unpopulated, meaning getting a job shouldn't be a hassle. If you are convinced, consider applying for a multimedia artist/animators degree. Mostly, your responsibility will be to create animation, special effects, and electronic tools for movies, commercials, music videos, and computer games. As an animator, your primary responsibilities will be:-
Research for future projects
Come up with product advertisement designs
Create artistic animations with a computer
Possess the knowledge to configure and control systems
9. Electric power line Installer & Repairer
Arguably, the world runs on electricity, making the electric power line installer and repair degree one of the many best-paying technical degrees from the trading school. Suppose you settle on this degree. In this case, your duties will revolve around fiber optics, high-voltage equipment, and telecommunications cables. Some of your essential responsibilities will include the following:-
Laying and repair of electrical lines
Ensuring climbing materials are safe
Ensure following all electrical codes, regulations, and safety standards
Equipment testing to detect operating challenges
Operating turbines and generators. Also, stopping them when necessary
Additionally, according to Recruiter.com, your payment will be between $39,090 – $108,380 annually.
10. Real Estate Agent/Broker
One of the most in-demand is working as a realtor. People sell and buy homes daily and need reputable realtors to represent them. Suppose you are a real estate lover. In addition, it is among the best-paying technical degrees in the market today. Although, as an agent, you can own your real estate company, it is mandatory to work for a broker. Fundamentally, you need a real estate agent/broker certification, which is where the degree comes in handy. Your primary job will be to buy and sell a property. Other realtor duties include the following.
Estimate the price of a property
Meet possible clients who may be interested in buying or selling real estate
Show real estate listed for sale
Assist clients in purchasing the correct property
Know how to market your services to potential clients
Always be up to date with existing real estate government projects and real estate financing
According to Indeed, real estate agents rake in an average base salary of about $80,657 annually.
Arguably, trade schools offer the best-paying technical degrees on the market today. For this reason, most college-aged candidates prefer joining trade schools over the traditional four-year college degree. Moreover, trade schools are cheaper, and the degrees take a shorter time to complete.
Trade school requirements may differ slightly by state or institution. For example, trade schools in New York do accept applications for candidates aged 16 and a half, while in Missouri, you have to be above 17 and a half to join one. However, there are standardized requirements, such as a high school diploma or a GED certificate.
If you do not have a high school diploma and want to apply for a trade school, you can still qualify to join the school, but you will have to pass a standardized application test. Which degree appeals to you most? Send the application letter today!