Home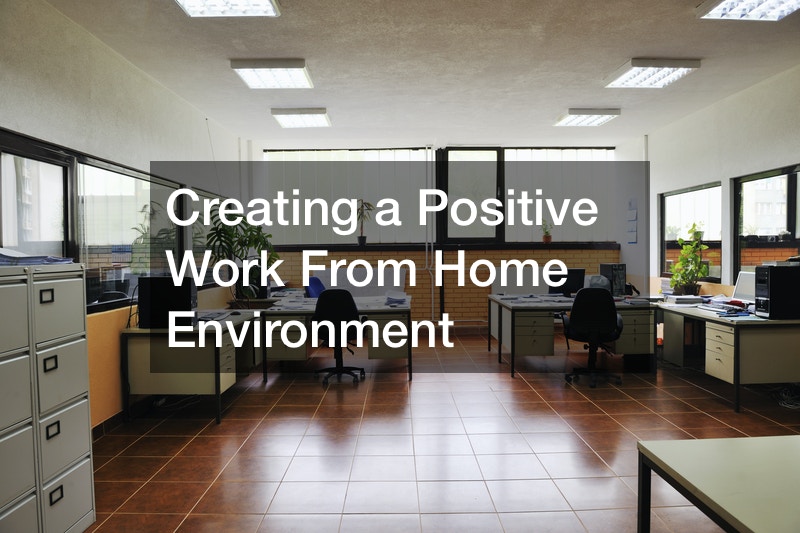 Creating a Positive Work From Home Environment

The world is experiencing a shift and a work from home environment is quickly becoming embraced in work culture. For a company to achieve its set goals, there needs to be coordinated team effort from the employer and employee. Working remotely can easily brew feelings of isolation, disconnection and lack of motivation hence the importance of creating a positive environment.
Any organization with remote employees is charged with the responsibility of stepping in and filling in the gap. Employees face a lot of anxiety and pressure as it is a new reality that they have not experienced before. The employer needs to look out for the well-being of the employee to create a nurturing and accommodating experience. The agency needs to create a positive work from home environment that maintains productivity. If your company is new to remote work, we have compiled a few tips to help you get started on this journey.
Prioritize training
To put a blanket statement that working from home does not require training would be a great disservice to your company. You need to take your employees through the initiation phase because assuming could leave some members behind and affect the productivity levels. Ensure that you are all on the same page and encourage them to reach out if they are experiencing any problems. Through training, the transition period from work to home is smooth and you can proceed to regular programming. For new employees, the employment agency can offer training to aid in the recruitment process.
Communicate
We cannot stress the importance of communication for any work from home team. With the limited face to face interactions, you and your employees need to stay in the loop. With modern technology, there are a variety of video and chat tools such as Google hangouts, Zoom and Microsoft teams to help you communicate with ease. Communicating regularly encourages transparency and builds trust. A transparent communication channel is one way of creating a positive work from home environment. When everyone is updated on the tasks at hand and the progress of the projects, they feel motivated to continue working.
To break the monotony, don't limit the communication to just work tasks and updates on projects. One way of staying motivated is to have a little fun from time to time. Communicate outside work tasks by sharing funny videos or memes. You can dedicate a specific virtual room to connect with your colleagues and share less serious matters.
Create Regular Breaks and Adhere to Holidays
Working from home does not mean working throughout. A lot of activities such as commute time are cut from the conventional work day. This can be a great time-saver but you can run the risk of work burnout. Do not confuse working too hard and working too much. You need to be able to switch on and off. As a company, encourage your employees to take regular breaks. You can create company policies such as 'no meetings between 1 and 2pm' to enforce the needed breaks. Employees may also feel guilty for taking annual leave as they are at home majority of the time. Let them know of the importance of taking time away from their professional lives. They have lives outside their work commitments and they need to create boundaries between their work and personal lives. It is crucial for their well-being to take a break, recharge and reconnect. This creates a positive work from home environment by assuring them that they are important and valuable to the company and that you respect their time.
Retain Social Activities
Working from home can limit activities that are a norm at the work place. Some of the social activities greatly contribute to the company culture and keep the employees motivated. When everyone is out of the office, you can invite them to take part in the virtual social hub by creating fun and similar activities they are used to and ensure they don't miss out entirely. The goal is to retain as much as possible from their normal work lives so that they don't feel they are displaced or experiencing a different and unknown work environment.
Support Diversity
Employers have a diverse workforce and this means that some employees may find it difficult settling in compared to their colleagues. Some have large families and cannot secure a quiet place to work. Some have children and are constantly taking breaks or have multiple distractions. It is your duty as the employer to accommodate all these employees. Offer them more flexibility and let them know that you understand their situation. You can even set up a separate virtual channel to help them brainstorm and come up with ideas that would make their work easier.
Provide one-on-one sessions with professionals
The workplace is full of professionals who support employees in different areas whether professional or personal. When working at home, the experience can have an impact on employees' mental well-being. Create a virtual session where they can drop in and express themselves on any issues they may be encountering. Some may be feeling lonely and others may have difficulty coping with the changes. Regular check-ins will be a great step in creating a positive work from home environment. You are letting them know that they matter and you are there to help.
Supplementary Work From Home Services
When creating a positive work from home environment, there are subsidiary services that employees may require to successfully perform their duties. Given that majority of the facilities and equipment are situated in the office and each employee is working remotely, accessing these services may not be readily available. However, companies can organize various services to easily provide for their employees and ensure business activities remain running smoothly. Some of the supplementary services to support work from home employees include;
Commercial Storage
These can prove to be very useful to a business especially one that is operating remotely. The work from home environment greatly differs from the office space and requires a lot of adjusting. A lot of data is out of reach and there is need for quick access of the data. Companies can opt for commercial storage for easy retrieval. Some organizations would opt to buy a business such as a commercial storage while others would prefer to rent. Some of the advantages of using a commercial storage include;
Organization – the team here takes charge and organizes the needed documents so that you can access your supplies easily when you need them.
Security – if you are worried about the security and confidentiality of your company's data, this will be a great reprieve as you will have one less thing to worry about. All documents and any other materials are guarded to keep unauthorized persons from accessing. You can therefore ensure only your employees access the documents as and when need be.
Convenience – one of the many reasons why people work from home is the convenience. Making regular trips to the office to collect or deliver documents does not sound convenient. With storage solutions, your business can skip this step and employees can enjoy deliveries at their door steps.
Equipment Rentals
As a business you will find out that you have invested in a lot of equipment rentals to keep the business running. When the situation changes and employees are working from home, accessibility to these equipment may be limited but employees will still be required to perform their tasks with the help of the equipment. These equipment are costly and a company may not be able to purchase for every employee while working from home. To keep the business running, they can opt to rent some of the equipment when need arises to cut down on costs.
The business can also engage local copier repairing services given that there is a lot of work involving photocopying and printing. By entering into an agreement with some of the local service providers, employees who own photocopy machines can get their equipment serviced and prevent work from stalling.
Advertising Platforms
Since human interaction is limited in work from home settings, a business needs to ensure that it maintains its presence online. From the wide range of marketing tools available, your business can remain on top and capture the intended audience attention. Making use of a marketing video platform will be instrumental in boosting sales, fostering trust and explaining to the audience about the products and services offered.
A company can create and edit a video to appeal to its audience. Some of the available video platforms include YouTube, Tik Tok, Vimeo and Filmora. In addition, the videos can be created in a fun and engaging way such that the employees get to enjoy creating them. It is a win-win type of situation as the organization is able to retain an online presence while engaging the employees in out-of-the-box activities that create a positive work from home environment.
Employee Merchandise
The effort to dress up or get ready for work while at home may not appeal to most employees. It is common in most work from home employees as they are not required to move or commute to their places of work. The dress code largely remains casual for a lot of them. The company can decide to do screen printing of some clothing and send them to the employees. The clothing is a symbol of solidarity and that you want the employees to feel part of the organization.
Apart from the organization's responsibilities, as an individual, you are also required to create a positive working environment for yourself. There can be a lot of distractions that can slow you down or demotivate you.
You will be spending an unusually great deal of time at home. In this regard, you need to create a positive space to allow you to perform your duties as usual. Working from home with a lot of distractions can affect your productivity levels. Slow drains, clogged sewer lines or bad smells could be the source of your disruptions. Check your home surroundings and ensure that there are no leaks or blocked drainage systems. If there are any signs of these occurrences, you can contact a sewer line repairs company to assess and act on the problem before it escalates.
Home security services
Working from home is slowly becoming the new norm and employees need to get accustomed on how to safely operate online. There is a lot of document sharing and some of the information is confidential. Some of the documents and other work tools will be kept at home. Given that there are a lot of valuables in a house, it is important to secure your belongings. Your working space such as windows and doors should be secured. Locksmiths are skilled specialists who will be able to assist you in choosing the best lock capable of protecting your valuable items.
Electricity Systems
Adapting a new work from home routine requires adjusting and incorporating new working tools and machines. There will also be increased use of electrical equipment in the house such as laptops, tablets, phones, heaters, screen printing and many more. Employees can expose themselves to safety risks as they engage in unsafe electrical practices and setups. There might be overloading of sockets or strain on the power line. Majority are not aware that they are at danger for overloading sockets and plugs. They also risk their electrical gadgets overheating and becoming obsolete screen print.
As a safety precaution, it is imperative that employees working from home source for the services of an electrician to check their homes and ensure they are operating under safe conditions. Electricians are very knowledgeable on electrical systems and can advise users on the recommended number of devices on an extension or create a work-from home setup that is energy saving and safe for the users.
Bottom Line
Creating a positive work from home environment is a collaborative effort from the employer, employee and other key service providers.