Home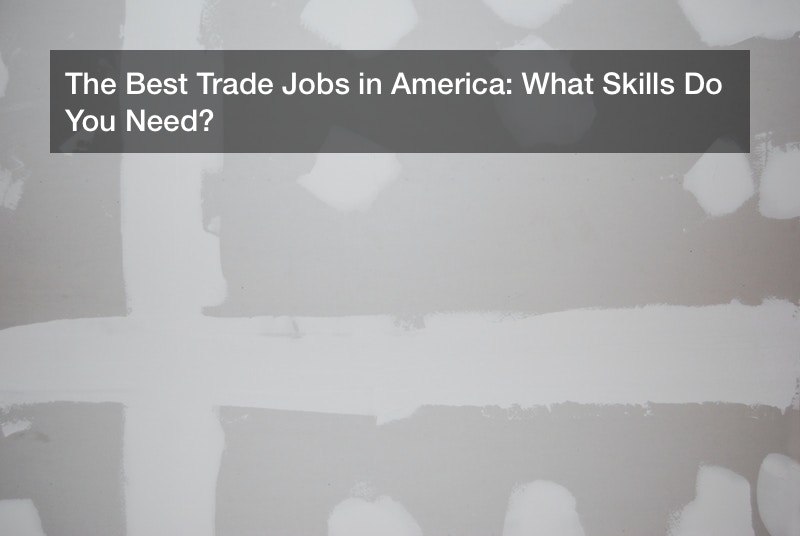 The Best Trade Jobs in America: What Skills Do You Need?

If you're stuck in a job you currently hate, why not switch over to a new field? Working a trade job is rewarding, and some can pay a hefty salary so you can support yourself and your loved ones. If you wish to learn more about some of the best trade jobs in America, continue reading. Here's a comprehensive countdown along with a list of requirements for each position.
1. Plumber
First on the list is one of the most popular and best trade jobs in America for emergency plumbing repairs. Plumbing jobs are always in demand, so you'll never have to worry about finding the best job out of trade school. Here's an overview!
What Does a Plumber Do?
A plumber's job is to repair and install the pipes and drainage systems that are connected to water fixtures, machines, and home appliances. They can work commercially or residentially.
What Skills Do You Need as a Plumber?
Plumbing does require some serious skill, which is why proper training can take two to four years. It's also one of the best trade jobs in America. Plumbers can also pick a specialty since they can choose to be residential or commercial plumbers. When applying for a plumbing job, there are certain skills employers look for when hiring viable applicants. For example, the applicant will need to understand that this is a physically demanding job. You will also need manual dexterity to succeed.
As a plumber, you will be working in tight spaces like bathrooms, attics, and basements. You will also need the strength to hold pipe fittings steady, so core and upper body strength are necessary. You will also need complete control of your hands to manipulate small tools and objects. Plumbers must also have good vision to be able to spot small imperfections in the pipes. This also helps them read their blueprints better. Other abilities required of a residential plumbing expert include:
being able to apply sealants, caulk, and adhesives
being able to clean sewer lines
being able to sit and stand in confined spaces
precision
being able to install pipe systems for gas and water
being able to tolerate potentially dangerous working environments
being able to tolerate noisy working environments
being able to understand soldering techniques
being able to weld
Mechanical Skills as a Plumber
However, a plumber should also possess mechanical skills on top of their physical skills. A trained plumber should have a decent grasp on basic geometry, algebra, hydronics, and possess mechanical reasoning. They should be particularly good problem solvers since the job will require you to read blueprints, install sinks and faucets, and clean clogged lines. Most plumbing problems can be quite severe, so a good plumber should also be persistent and willing to look at a problem from various angles.
Administrative Skills for the Job
You also have to be great with business and handling matters related to management if you want to work for an emergency plumbing service.
Not only should you know basic math, but you should also be able to identify problems on the spot, know how to plan projects, and be able to project viable estimates for clients. A plumber should also be expected to complete the required paperwork when meeting with a client and establishing their rate.
Compliance Skills Related to Plumbing
There are also several safety protocols you must follow as a plumber. State regulations are also bound to change at a moment's notice. Plumbers should be leaders, but also understand when is the right time to follow directions. Collaborating with others is also essential, as the candidate must be reliable and flexible.
2. Electrician
A role as an electrician is another one of the best trade jobs in America.
If you wish to learn more about these skills you need to land this job, here's what you need to know.
Pick Your Specialty
Before diving into the skills you need to become an electrician, make sure to pick your specialty. You can decide to become an independent contractor. You'll be responsible for your own business this way. You can also be a journeyman electrician. This is one of the most basic levels of the field. A master electrician can lead jobs and act as a mentor to apprentices. Between these three jobs, you can also pick to work for commercial or residential properties. Commercial electricians work for nearby businesses, while residential electricians are likely to work in a typical neighborhood.
The Basic Skills
Have these basic skills before entering the field of electrical repair. You'll need to know basic algebra and trigonometry. Physics is also essential.
Aside from these basic skills, a good electrician must possess good communication skills. They should also be extremely dependable. Since they are working with thin wires all day, attention to detail is so important.
If you choose this path, you should also be extremely skilled with your hands, much like a plumber.
Business Skills
It may be hard to act confident if you don't have a natural knack for talking to people. But since your job is to serve others, you'll need to get more comfortable in your business skills.
3. Dental Hygienist
If you feel like your place is in the medical field, consider becoming a dental hygienist. This is one of the best trade jobs in America. Benefits of working in a dental clinic include:
working in a social-orientated atmosphere
a competitive salary
working a flexible schedule
opportunities for advancement
job stability
Skills Needed to Become a Dental Hygienist
First off the bat, if you want to have one of the best trade jobs in America, you will have to be a master communicator. You'll be talking all day — to the dentist, to your co-workers, and to the patients. Listening skills are also valuable, as you'll have to spend most of your time listening to a patient's concerns, and hearing about their health history. If you think you won't be able to listen to your patients, perhaps this isn't the career for you. However, if you know that you can make them feel comfortable and trust you, you will undoubtedly shine in this career.
You will also need to possess extreme attention to detail. You'll be cleaning teeth, which also requires you to have a steady hand. Missing tiny details on x-rays can also cost you your job! So make sure you possess this trait before signing up for a dental hygienist program.
As a dental hygienist, you will also need to have an extreme amount of compassion. This business is all about helping other people. Some of these patients may feel nervous about their dental procedures. Therefore, it's your job to calm them down before their dental treatment and assure them that they will be okay!
Hard Skills Needed as a Dental Hygienist
As a dental hygienist, you will need to learn how to apply fluoride treatments. This is a mineral that protects the patient's smile from cavities. You will also have to learn how to remove deposits from their teeth. These deposits can include plaque, tartar, and encrusted food. You will have to get deep within the gum line to ensure a deep clean.
Taking x-rays is another crucial part of the job. This can be tricky since they use radiation. You will have to learn the specific process in which this is done. For example, you will have to put protective equipment on the patients, like a thyroid collar.
Dental hygienists must also assist the dentist with restorative procedures like fillings, root canals, and crowns.
4. Landscaping Contractor
A landscaping contractor is another one of the best trade jobs in America. As a landscaping contractor, you will be able to set your own schedule, work seasonally, and have the freedom to run your own successful business as you see fit. However, to reap these benefits, you will need the proper set of skills. For starters, you will have to apply pesticides to remove harmful insects like wasps, ticks, and mosquitos. You will also have to conduct general maintenance like clearing up walkways in backyards and fixing fountains and water fixtures, and sometimes performing irrigation installations.
Applying fertilizer to the client's lawn is also a vital part of the job description.
Requirements to Become a Landscaper
If you want to be a landscaper, you need to have a high school diploma or the equivalent.
You must also be able to operate certain equipment that includes hedge trimmers, leaf blowers, and lawnmowers. Additionally, you must know how to control pests and know basic lawn care, like how to take care of trees, flowers, and other plants/
The bottom line is that you must have good endurance and be in great standing health. This job requires being outdoors in warm weather. You will also have to carry heavy objects, like plants and bags of mulch, and tools.
5. HVAC Contractor
Last but not least, you can also become an HVAC contractor if you're looking for the best trade jobs in America. This contractor specializes in heating, ventilation, and air conditioning. This role will have you visiting homes and commercial properties to ensure their heating and cooling systems are running properly.
There are also three subsections of the job. First, HVAC contractors can do repairs. When the AC is on the fritz, and the homeowner is burning up in their own property, this contractor is the first person they call. Contractors are also in charge of the installation. If a commercial property wants to switch out their old AC unit for a newer one, they get a hold of an HVAC contractor in their area.
Lastly, they are also in charge of regular maintenance.
The Skills You Need to Become an HVAC Contractor
To get one of the best trade jobs in America, you must first get your high school diploma under your belt. Then, you must pursue HVAC training from a trade school. Aside from this, the candidate must also possess the ability to read blueprints. These are essential for following design specifications. Candidates must also properly connect heating and air conditioning systems to supply lines and install electrical wiring in homes and commercial properties.
Aside from this, one must also keep up with government regulations regarding the trade. For example, government regulations regarding how to store or get rid of coolant is subject to change. Understand all of the crucial safety requirements that apply to you and the customer or client to prevent any accidents while on the job.
Know all of the different types of tools, from the most basic screwdrivers to the most complicated torches.
Conclusion
Trade jobs have some awesome benefits. Especially the best trade jobs in America! Whether you're interested in dental care or plumbing, trade jobs are the backbone of this country. If you want to enter the workforce with a respectable position, consider one of these great options as a career path.
You'll find any of these jobs incredibly rewarding, inspiring, and exciting!
All you have to do is seek out the proper training, ensure you possess the right skills, and finally relish in the fact that you're servicing others in your community and making the world a much better place to live in.
Related Topics:
$100 000 jobs no degree, 04 pay, 1 year job courses, 10 highest paying jobs in education, 100 000 jobs without a degree, 100 000 salary jobs without degree, 100 thousand dollar jobs without a degree, 100k a year no degree, 100k a year without a degree, 100k careers no degree, 100k no experience jobs, 100k without a degree, 2 year college careers list, 2 year school high paying jobs, 2 years vocational courses list, 200k jobs no degree, 2018 high school, 26 no job no education, 30 trades, 4 main sectors of skilled trades, 5 top paying jobs without a degree.