Home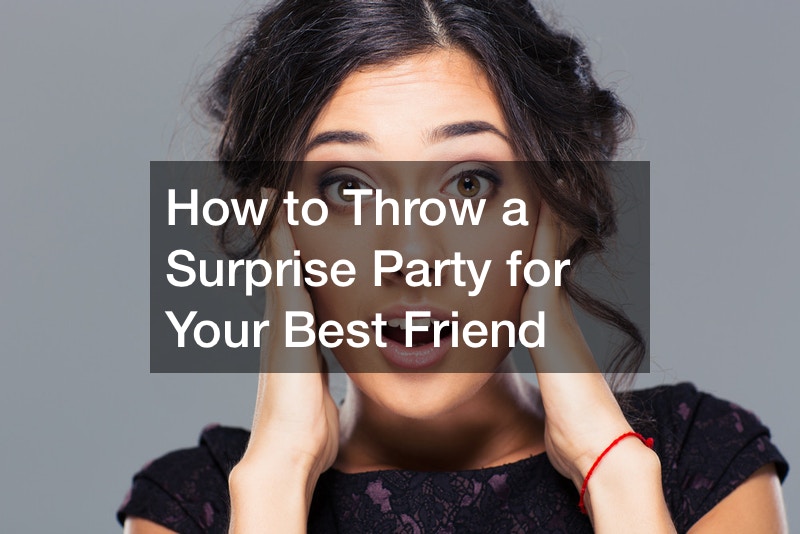 How to Throw a Surprise Party for Your Best Friend

Surprise parties are great! They bring so much joy to the recipient of the surprise. You can learn how to throw a surprise party for your best friend and show them how much they mean to you in a few easy steps. Learn how to throw a surprise party for your best friend by following these tips.
Choose the Right Date
Surprise parties can be difficult to plan because you have to know the person's schedule that you are planning the party for. You will have to root around to figure out when your best friend can celebrate their birthday without asking outright. One of the steps to throwing a surprise party for your best friend is to ensure that your party date does not interfere with your best friend's schedule. Can you imagine planning an entire party and then learning that your best friend left to go out of town at the last minute? It happens.
Beat around the bush but indicate that on this specific date you would like to get together. Another obstacle to overcome is to make sure that your best friend is dressed appropriately for the party. You may have to get creative and enlist the help of others to ensure that not only does your best friend show up for their own party, but that they are dressed appropriately for the party.
It can be done but you may have to tell a few white lies along the way to ensure that all your party planning is not for nothing. Ask your best friend's partner to help determine the best date and time to plan the party. Typically, partners share with each other their calendar and their schedule. It is a little sneaky to go behind your best friend's back but you have to do whatever it takes to make sure your friend is free on their party date.
Choose the Venue
The first step in how to throw a surprise party for your best friend is to figure out where you will hold the party. You do not want to choose a place that is too obvious if you want your friend to be surprised. You want to choose an event venue that they do not expect but that they will love.
Base your choice on what your friend will enjoy. You should know them well enough to know if a boat rental for the event is a good choice, or if they would prefer a local restaurant, or something a little more intimate in your backyard. Of course, if your friend hates mosquitoes or is not a big fan of the great outdoors, then a lawn party is out of the question. This is your BFF. You know what they would love.
Unless it is a really important milestone birthday like 30 or 50, it is okay to choose a venue that is small and intimate and that you can easily afford. You do not have to have the party at the most expensive place in town to have a great party. You just need to give some thought to what your friend would like and where they would feel comfortable.
Plan for Some Food
What type of food will you serve? When you are thinking about how to throw a surprise party for your best friend, planning on what you will serve has to be a priority. Does your friend like Italian food? Do they love sushi? Make their favorite food a focus of the event.
Of course, you do not have to go over the top and spare no expense when you are planning a surprise party for your best friend. The goal should be to work within your budget. How to throw a surprise party for your best friend should include considering what people will eat at the party, but it can be as simple as having pizza and other finger foods on the menu.
Going over budget can be very stressful, which means you will not enjoy the party yourself. Set a food budget, then find foods that fit into that budget that your friends will enjoy. There are plenty of options. Get creative and try cooking and creating your own party platters. You can save money when you do a big part of the work yourself.
Plan Your Guest List
When you are thinking about how to throw a surprise party for your best friend and who to invite it can be tempting to invite people that you are friends with outside your relationship with your best friend. Erase that thought. This party is for your friend, so you want to invite people that she is friends with outside your relationship. You do not want your best friend to feel uncomfortable at their own surprise party. Every face that is there should be a familiar face to your best friend.
You may have to leave some people off the guest list because of space constraints, so it is very important that you give each slot on the guest list serious consideration. Ideally, the guest list will be composed of people that you both know and feel comfortable with.
You have your venue and you have your menu planned and now you have to deal with another step in how to throw a surprise party for your best friend. What will you do at the party? Will you have party games? Will you hire a party bus to get everyone to the venue? You have to plan how the celebration will unfold and what people can do at the party.
Party games are a great idea. You can find a wide range of party game ideas online. Plan a few fun games that everyone can participate in. Invest in a few gift cards to hand out to the winners. Most beauty salons offer gift cards, and most restaurants, gas stations, and more all offer gift cards that range in price that make excellent awards for the winner of the games.
Party games serve two purposes. They give people something to do and they get guests together. For example, you have invited some of your best friends' work buddies that do not know your circle of close-knit friends. Games can get everyone involved so that no one is sitting on the sidelines and feeling awkward. Team games are great for integrating all the guests.
Find games that do not require any specific physical prowess or skills. Guess games are great. Formulate a sheet of questions about your best friend that provides a couple of answers to choose from. Keep the list to about ten questions. Ask guests to circle the response that best fits your best friend. Then give your best friend the same question and answer sheet and ask them to circle their answers. Read the answers out loud and ask guests to add a point for every answer they got correct. This is a fun way to not only engage your guests but also to give people an insider look at who your best friend is.
How to Throw a Surprise Party For Your Best Friend That is Not Really a Party
Maybe worrying about a venue, food, and games seems overwhelming to you. There are other approaches to how to throw a surprise party for your best friend that does not include doing all the aforementioned. Consider a surprise day spa party where everyone gets a face mask treatment, massage, and pedicure. Each guest can pay their own way and you can cover the cost for your friend. It is a great way to spend time together and celebrate without having to take on all the party planning stress.
The spa is not the only place you can have a little surprise event. If your best friend loves bowling, ice skating, sports, riding horses, whatever, you can arrange a surprise event built around the activities they enjoy with the same parameters. All the guests pay their own way, and you cover the cost for yourself and your friend.
Of course, the fun activities can be followed up with lunch or dinner. Again, everyone pays their way, but you pay for yourself and your best friends' tab. Taking this approach can actually be far more affordable than absorbing all the costs of the event on your own.
How to Throw a Surprise Party for Your Best Friend and Keep It a Secret
It can be hard to keep secrets from your best friend. It can be even harder if your best friend's birthday falls on a Wednesday and you have an event planned for the following Saturday planned. It can be hard not to reassure your best friend that something big is coming their way when you do not do anything on the day of their birthday.
Don't drop hints or hedge around the idea that something big is coming or you will ruin the surprise. Be careful who you tell about your plans because you know a friend always loves to tell a friend who can eventually get back to your friend. Swear all the invitees to secrecy. What some people do is make it a surprise for everyone. They will tell the guests where to go and at what time but do not divulge any of the details of the event. The less you divulge, the less chance your best friend will find out about it.
It may be hard watching your best friend mope about because no one is doing anything for their birthday on their birthday but keep your secret close and really surprise them. A few days of silence will pay off a lot if you surprise them.
Get a Co-Conspirator On Board
If you are pressed for time or need some help paying for the event, partner up with another friend that can help to carry the financial load and planning load. It will make it a lot easier to have someone that is working with you instead of trying to do it all alone. Every best friend has other friends that care deeply and that want to help. One of the easiest ways to throw any type of party is to have a team doing some of the work.
You may want to make this an exclusive gift from you to your best friend, but ultimately, it is all about celebrating with your friend and enjoying the process. Ask for help if you need it. A lot of people already know how to throw a surprise party for your best friend and they can share their experiences to make the process easier. Sign up a few friends to be co-hosts or simply delegate some of the duties. It will make the process easier and likely make the event even better.
Don't Forget the Gift
Whether you decide to go the traditional route of throwing a surprise party for your best friend or decide to do something a little different, be sure that you don't forget the gift. Jewelry is always a great gift. Make the gift personal and memorable. A gift, whether homemade or store-bought, coming from you, should have a personal meaning. Don't get caught up in spending more to show that you care, instead make sure the gift comes from the heart. Learning how to throw a surprise party for your best friend is already an admirable attestation to how you feel about your best friend. A gift will add that special something to the process.
There are easy ways to throw a surprise party for your best friend, some easier than others, you should do what you can to make it a fun time for everyone. Learn more about how to throw a surprise party for your best friend that will be memorable and truly appreciated.